Have you cleaned your properties decks? Have the decks been sealed? Are they taking a beating from summer activity, heat and humidity?
When you don't treat your deck the wood can crack, and dry out.  Eventually, the wood will turn an unattractive gray color and it will splintered. So how do you preserve your wooden deck?  You should either seal or stain it.
You may choose to use a sealer or a stain.  The sealer is a clear finish that either penetrates into the wood or forms a clear film on top of the wood. While a deck stain helps resist water. It helps lock out moisture and reduces the amount of water that penetrates the wood.
Seal your deck to prevent water from penetrating the surface of the wood. It helps to lock out moisture and reduce water intrusion. Sealant can help reduce the chances of fungus growing and the wood rotting.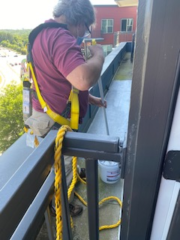 A deck stain has the same water-resistant qualities as a deck sealer with the added benefit of pigment. Pigment gives the stain some color and UV blocking abilities. UV blocking helps reduce sun damage.  The darker the color or the more pigment added, the more sun protection the stain will provide.
Whether you choose to seal or stain, don't leave your deck untreated. You'll  spend time removing the damaged area. And spending money replacing and treating new wood.